The time of year is upon us when the air is crisp and cool, we break out warm, cozy sweaters, the foliage is exploding with vibrant colors, and pumpkin spice everything is on the menu. There's so much to love about fall. It's an ideal time to slow down and tend to yourself as you settle in for the months ahead.
I've gathered several free and affordable fall self-care ideas to pamper yourself and help keep you relaxed and grounded for the remainder of the season.
Go on a photo walk.
Take a mindful hike at your nearest forest preserve or natural setting and capture the beautiful fall scenery with your phone or a camera. Afterward, find somewhere to sit (on a blanket under a tree or a bench) and people-watch, journal, or read a good book.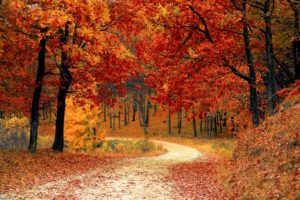 Make a fall wreath for your home.
When we immerse ourselves in creative activities, we often naturally experience mindfulness. We're not thinking about anything except the present moment because we're too busy experiencing the activity. Even if you're not super crafty, you can make your own affordable, beautiful wreath for your home with this DIY video.
7 CREATIVE Dollar Store DIY Fall Wreaths (Trendy NOT Trashy)
Make a "happy list" of your favorite things.
Dedicate a page of your journal to all the things that make your heart happy. It can be anything – your favorite coffee drink, a book, a movie, those adorable boots you've had your eye on. And if you don't have a journal a regular notebook will do. The point is when you're feeling overwhelmed, take out your list and pick one or two to enjoy!
Bliss out with aromatherapy
Diffusing essential oils can be very supportive when we're looking to maintain or alter our mood. That's because we're able to influence our emotions through our sense of smell. Put 3 drops of your favorite essential oil (or combination of oils) in the diffuser and sit quietly for a few minutes, focusing on the aroma and how it makes you feel. Lavender and Ylang Ylang are wonderful essential oils for reducing stress.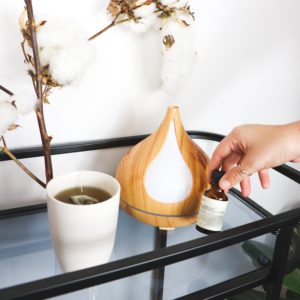 Enjoy a relaxing bath or foot soak
Make it a luxurious experience. Put your phone on do not disturb and play some relaxing music. Use bath salts or essential oils to engage the senses. If you're short on time or don't have a bathtub, break out a large bowl or foot bath and add some Epsom salts.
Try a soothing yoga practice
Research has shown that yoga has many physical and mental benefits. It's known for its ability to soothe tension and anxiety in the mind and the body. If you haven't tried it yet, check out this wonderfully restorative 10-Minute Yoga For Self-Care. There's no downward dog or any crazy poses, so it's perfect for beginners!
Try a mindful meditation
Halloween and Thanksgiving are around the corner and you might find yourself with a longer to-do list in the days and weeks ahead. Take a little time to slow down and enjoy an autumn-themed mindful meditation. Meditation has many benefits, including better overall health, decreased stress, and increased attention and focus. If you haven't tried it yet, this is a great time to start. Here are 8 easy tips to start meditating.
Here's a 15-minute meditation I created for autumn reflection and letting go in preparation for the season ahead.
Look to the skies
Grab a mug of warm apple cider, a glass of wine, or a cup of tea and a cozy blanket, and gaze at the stars from a blanket in your yard or your balcony. Between the autumn and spring equinox, the Northern Lights are at their most frequent here in the U.S. The clearer the sky the better.
Take a scenic drive.
Take a road trip for the day, the afternoon, or even just an hour. Appreciate the beautiful autumn scenery and roll down the window to enjoy the crisp fall breeze. Throw on your favorite tunes and immerse yourself in the experience.
Detox your friends' list.
If you're friends with someone on social media (or in real life) who can't seem to communicate respectfully and you find it's really affecting you negatively, kindly wish them well and unfriend them (Facebook also offers an option to "take a break", which may be good for when you don't necessarily want to unfriend). Life is short. You don't need toxic people bringing you down to their level.
These are just some ideas to experience some self-love this fall. I hope this list can act as a springboard for you in your wellness journey. For more ideas, check out my blog post, 7 Ways To Practice Mindfulness Without Meditation. Or, do a Google search and see where it takes you! Either way, enjoy this most beautiful of seasons, my friend!